Can a Doradoor have a fly screen?
Due to many enquiries regarding insect screens Doradoors now offer the extra protection for your security – good for keeping those mozzies and flies at bay this summer. We can integrate mesh into your design for a seamless finish. NOTE: We now supply PAW PROOF mesh to help protect your screen from pets claws and paws
Integrated Mesh can only have a deadlock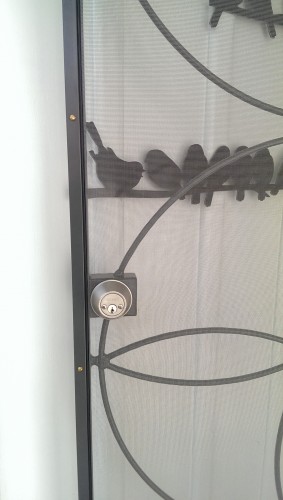 Generally our DORA doors are designed to keep out man sized pests but now can tackle the little ones too!
Do the doors come in a range of colours?
DORA doors are available in zinc plate. Zinc starts off as a pleasant bright silver which softens down to silvery grey tone over time.
If you wish to have a colour more suited to your home we can powdercoat your DORAdoor. Powdercoating finishes come in a range of colours so it may be possible to match your door to an existing exterior colour. Powdercoating comes at an extra cost, which we can quote at the time you decide on a design.
Will a DORA door Fit in my Door Frame?
The door and its hinge and strike plate are designed to fit inside or on the face of a standard timber door frame that measures 735mm to 885mm internally. We can also face mount on aluminium joinery no problem at all!
What if I lose my Keys?
The door comes with 2 keys as standard. We can provide more keys at the time of purchase if required.

Will you produce a dora door to my design?
Yes of course! Let us meet and discuss some options. One-off designs do incur an extra charge depending on design and complexity…. But we can discuss this as we thrash out your idea. Bring in a sketch or drawing for us to start with. Getting the process started will be a great step in the right direction.
Can I install a Doradoor myself?
Yes with a little confidence and a good drill. But we can organise installation in your area for $150 or if outside of Auckland (around the same price for Hire a Hubby or a DIY dude of that sort!)
Where are Doradoors made?
Proudly produced in New Zealand by Tim Ord. You can find him in his workshop at Unit 3, 34 Galway Street, Onehunga (off Neilson St) Auckland. Not always manned if you happen to drop in! We suggest you ring Michelle first 021 045 3347